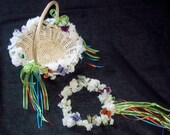 How sweet will your flowergirl be with this butterfly laden hair ring and petal basket to match.
Beautiful for a garden or outdoor wedding.
Cream and white flowers, roses, and dainty little colored butterflies. Natural colored basket.
Basket is made to hold petals with the flowers and butterflies around the edge.
Brightly colored ribbons hand down the back of the h...
Click Here to Visit My Etsy Shop!